SUSPON Symposium
" Beyond the 2020 Olympic Games- The Challenge of Creating a Sustainable Society through Sports "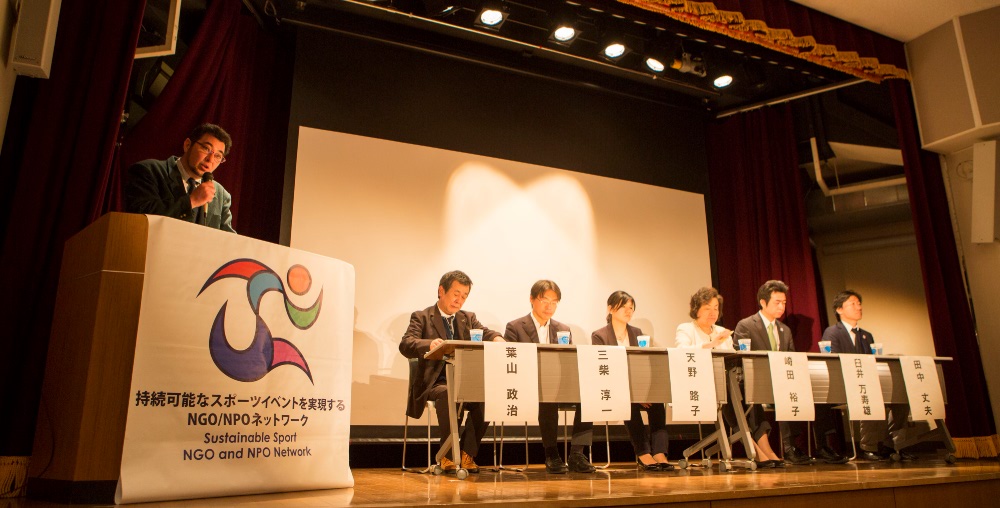 In the Olympic and Paralympic Games, the world's largest sports event, "sustainability" is a key topic. It is expected that the 2020 Tokyo Games will be an "inspiration" to lead Japan and the world towards a sustainable society.
At the networking organization held by SUSPON (Sustainable Sport NGO and NPO Network) that was launched in 2016 by Japanese NGOs and NPOs with the same goals, not only were we able to develop policy recommendations through each theme the participating groups focused on, but we were also able to be the "main actors" ourselves.
At this symposium, along with announcing the results of the first year's activities of SUSPON, we shared our issues concerning the realization of sustainability at the Tokyo Games in 2020 to interested companies and NGO/ NPO stakeholders, and we discussed solutions with our interest to collaborate.
We believe that it is essential for many people to be interested in this movement and to participate in various ways in order to build an excellent society beyond 2020.
Thank you very much for supporting SUSPON.
Date

16 February 2017, 1:00pm- 4:30pm

Venue

Chiyoda City's Hibiya Library and Museum Hall
http://hibiyal.jp/hibiya/access.html

EntryFee

Free

Program

Moderator : Tomoko Hoshino(Vice Representative of SUSPON / Environmental Partnership Council)

◆SUSPON's greeting (Kanta Hani: Representative of SUSPON / iPledge)

◆Lecture: Suggestion to the Tokyo Competition seen from the tour of London and Rio
(Yuko Sakita: Representative for NPO GENKI Net for creating a Sustainable Society / Urbanplanning and Sustainability Committee , The Tokyo Organising Committee of the Olympic and Paralympic Games)

◆Recommendations by the SUSPON subcommittee for 2020
 ◇Zero Waste : Michio Amano(Global Environmental Forum) / Satoshi Hamanaka(iPledge)
 ◇Responsible Procurement : Junichi Mishiba(FoE Japan)
 ◇Biodiversity : Seiji Hayama(Japan Wild Bird Society)
 ◇Energy : Junko Hasegawa(Green Purchasing Network[GPN])
 ◇Summury : Tomoko Hoshino(Environmental Partnership Council[EPC])

◆Panel Discussion "The Sustainable Society that the 2020 Tokyo Games will Realize"
Moderator : Kanta Hani(iPledge)
Panelists :
Takeo Tanaka(Senior Director of Sustainability, The Tokyo Organising Committee of the Olympic and Paralympic Games)
Masuo Usui(Director for Venues Coordination, Olympic Venues Division, Bureau of Tokyo 2020 Olympic and Paralympic Games Preparation, Tokyo Metropolitan Government)
Yuko Sakita(Representative for NPO GENKI Net for creating a Sustainable Society)
Michio Amano(Global Environmental Forum)
Junichi Mishiba(FoE Japan)
Seiji Hayama(Japan Wild Bird Society)
Tomoko Hoshino(Environmental Partnership Council[EPC])

Contact

SUSPON Secretariat within Global Environmental Forum
(Sakamoto, Amano, Saito)
Phone : +81(0)3-5825-9735
ContacForm : https://ssl.form-mailer.jp/fms/91a333cd460595

Organized by

Sustainable Sport NGO and NPO Network (SUSPON), Global Environmental Forum

Co-organized by

iPledge/A SEED JAPAN/ecotone/ezorock/FoE Japan/Environmental Partnership Council(EPC)/NPO Environmental Relations Association/Green Purchasing Network (GPN)/Green Alliance Japan/CSO Network/NPO Genki Net for creating a sustainable society/Sui Do! (Tap Water Do!)/Space fuu (Authorized NPO)/WWF Japan/The Nature Conservation Society of Japan (NACS-J)/Japan Wild Bird Society

Sponsored by

Japan Fund for Global Environment the Environmental Restoration and Conservation Agency (2016)